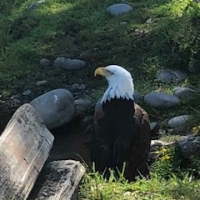 We Got Lazy
by Tami | June 14, 2018
Hello Peeps and Fellow Travelers:
We plan on writing some current blogs from our camping adventures this year. I admit we got a little lazy and haven't posted anything in a very long time. So shame on us.
We invite you to participate....don't be shy. Your privacy is well guarded on our end so please don't share anything too personal on your end.
I will say on our last trip I learned a few things. It is not a good idea to try and befriend a cat if you are a small sqatty Yorkie and have no experiance dealing with said cat. Gabana got her ears boxed when she got too close and curious. Then it got weird. She started screaming (literally) and ran from the cat to a safe place (in her mind) with all of the other cats and dogs, probably a mob of 7-8, cornering her. They all chose sides thinking each of them were in distress. I plucked her out of the melee and wrapped her in my vest to calm her down. I think she thought she was dying but it was just humiliation and surprise. She convalesced on a bench with me until she felt secure again. I think she is forever wary of cats. She usually enjoys chasing the cat that invades our yard and I'm thinking she will now hide or at least keep her distance. Pets are so funny.
I also learned that if you get lost and take the wrong highway (101) you will be on it forever. It was however, a beautiful drive, just a longer trip home than we had planned. I did forget just how amazing that coastal drive is so it was nice reminder of all of the nature we have available to us so close.
So the moral of the story is....get out there, take your pets, and blog.